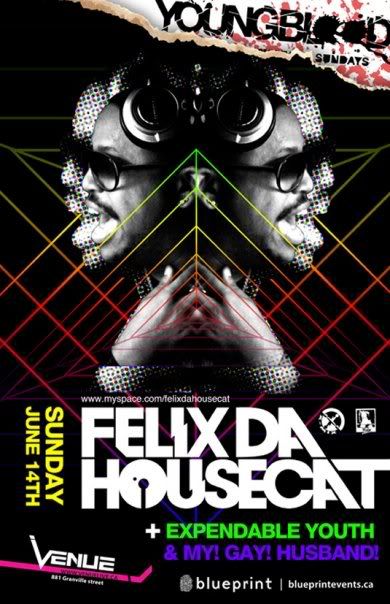 As y'allz already know, we're launching off our BRAND NEW Youngblood Sunday party with the Vancouver return of the one and only legendary
Felix Da Housecat
.
Felix has a long and storied career as a DJ/Producer, and his influence has helped shape the dance music landscape as we know it today.
Throughout the early to late 90's, Felix Da Housecat was a staple of the Chicago house music scene, but it wasn't until 1998 that we caught a glimpse of his signature style in the album (under his pseudonym Thee Maddkatt Courtship),
I Know Elektrikboy
. Although the album never saw proper release in either the US or UK, it planted the seed for a sound that would eventually come to define him.
Download:
Thee Maddkatt Courtship - "My Life Muzik"
Next we saw Felix developing his sound further into what came to be known as "
electro-clash
". To this day, he's perhaps best known for being one of the primary architects of this early-mid 00's movement. Likewise, the explosion of this dance music scene in New York's underground helped usher in the rise of parties like
the Misshapes
and even paved the way for groups like
Justice
to start gaining recognition.
Download:
Felix Da Housecat - "Ready 2 Wear"
Pt. 2 coming soon! Stay Tuned!